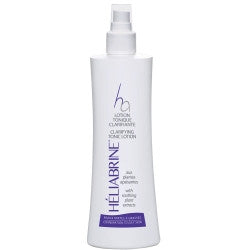 Héliabrine for Oily Skin Clarifying Tonic Lotion
This astringent lotion tightens open pores, clears the complexion and gently tones irritated skins.
It soothes itchiness, keeps the skin in balance and helps to stop oily skin.
Apply mornings and evenings with a cotton pad after cleansing with Cleansing Lather Gel.
ACTIVE INGREDIENTS (NEW FORMULA):
Astringent Agent
Vitamin B6 – Prevents excessive oil secretion and keeps skin non-shiny for longer
Chamomile - Soothing/calming/anti-inflammatory
Cornflower - Soothes/ reduces inflammation/tones
Calendula - Soothing/ anti-inflammatory, and antiseptic.
St John's- wort and Lime Blossom complex - Soothes
Allantoin – Anti-inflammatory and soothes
WITHOUT PERFUME OR COLOURING
PARABEN FREE
Also recommended as a safe and soothing after-shave.