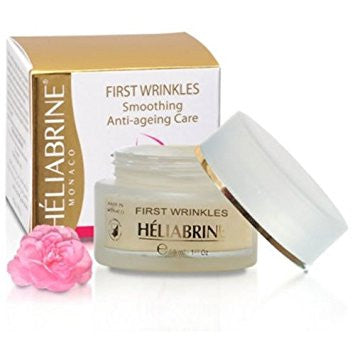 Héliabrine Essential Care First Wrinkle Cream
Fight the first signs of aging.
First Wrinkle Cream combines the outstanding antioxidant and protective properties of Fresh Kiwi Cells and the smoothing power of a patented anti-wrinkle peptide. Along with a unique plant complex to ensure optimum moisture all day long.
Results - fine lines are smoothed out, the complexion is fresh and radiant.
Fresh and light texture suited to all skin types. Does not clog pores.
ACTIVE INGREDIENTS (NEW FORMULA):
Grape Seed & Macadamia oils – Soothes and nourishes
Imperata Cylindrica – Nourishes and repairs the skin
Pomegranate oil - Anti-aging
Fresh cells of Kiwi – Antioxidant/Nourish/Protects
Vitamin E – Anti-Aging/Protects
MATRIXYL synthe'6® - Peptide that smoothes wrinkles
PARABEN FREE
Use as a night cream for all skin types or morning and evening in case of dry and devitalized skin.