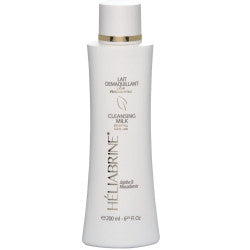 Héliabrine Essential Care Dry Skin Cleansing Milk
A facial cleanser suitable for all skin types, especially for dry and very dry skin.
Gently cleanses all traces of impurities, make-up, sebum etc.
It contains Macadamia and Jojoba oils that prevent dehydration and have a protective effect on the skin.
ACTIVE INGREDIENTS (NEW FRAGRANCE & NEW FORMULA):
Jojoba Oil - Restructuring and adaptive
Macadamia – Nourishes and softens the skin
Beechwood extracts - Oxygenate skin
Allantoin – Anti-inflammatory and soothes
Plant Glycerin (coconut palm) - Very efficient moisturizing agent
PARABEN FREE
Apply morning and evening to the face and neck. Rinse off with lukewarm water, follow with Toning Lotion.