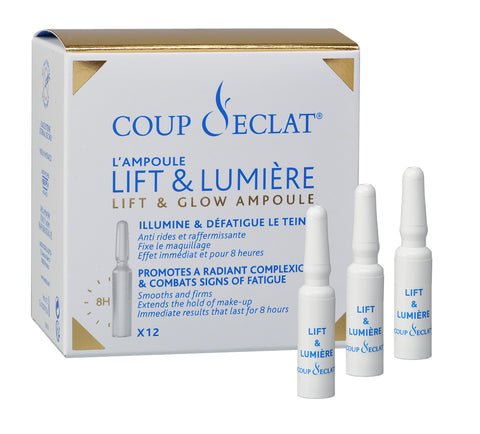 Coup d'Eclat 8 hour Lift & Glow Ampoules
ACTION
The COUP D'ECLAT® Lift & Glow Ampoule is your best asset for immediate and long-lasting beauty! Its firming and anti-wrinkle action lasts for 8 hours. Your complexion is more radiant, wrinkles are less visible and signs of fatigue fade away. It also extends the hold of make-up.
Suitable for sensitive skin types.
APPLICATION
Shake well the ampoule before breaking it. Gently pour into your hand palm. Apply directly to your cleansed face and neck and insist on the areas that need the most. You can apply your other usual care right after.
MAIN INGREDIENTS
Acmella Oleracea, Sorghum Juice, Almonds, red Algae, Imperata Cylindrica, Hyaluronic Acid, Provitamin B5, natural mineral Pearls
g.